A new month and I'm moving north again though not very fast. A head wind, dense fog and a late start have slowed today's progress. I've anchored early rather than head out into an open stretch of water then try to find anchorage in the dark. I'm so glad it stays light as long as it does here!
The CAP'T LEM is in 27′ of water in Dumpling Harbor at Latitude 53⁰ 50′ 26.6″N ~ 056⁰ 58′ 04.1″W. The small barier island to the south has some houses on it and I can see wash hanging out though I doubt it is drying. The bigger island shelters us from the north wind and the smaller island from the southeast swell. Down below it's warm and quiet except for the soft music of the wind in the rigging. The CAP'T LEM sings to me, too.
I have a quiet apprehension about the time I have lost but I'm not going to dwell on it. It was necessary for reasons I have already explained. Oh, but there were some beautiful days there in Cartwright that made it hard to be at the dock. Tomorrow is predicted to bring a change in wind to the southeast. That's when we fly.
This morning George took me once again around to do last minute provisions. I found room for two more gas cans and I got drinking water jugs filled, bought milk and mailed mail. In between we went to greet the elegant Schooner Bowdoin from Castile Maine as she came in for the Cartwright Heritage Festival. I would have liked to have gone aboard her but the miles called. I did go close by on the way out of the harbor to wish them well. She reminded me of the days of tours on the BRIG LADY WASHINGTON.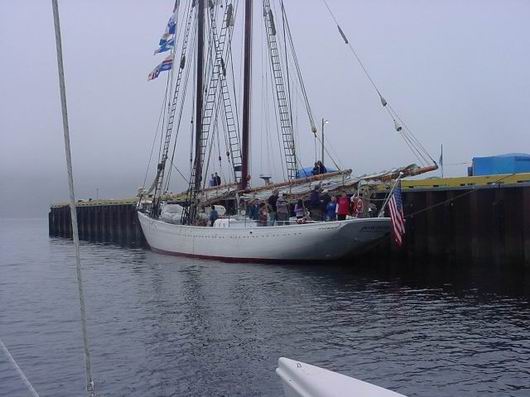 Tomorrow, an early start.
Questions and answers
Sam ask about the autopilot and changes in the wind: The autopilot only trys to hold the magnet heading when in auto mode. No input form the wind though some do have that, this unit is very basic. I can change the course while standing in the companionway under cover to keep the wind in the sails. To its credit, the two times it has broken have both been my fault. Almost all of the 3151 nm I have traveled have been steered by it. That's why I had to have a backup.
To Bumbazer: Na, I used my knife to chip the ice not the autopilot!
To Wayne: Thanks so much, shipmate. Keep the stuff coming.
To all who have e-mailed: Thank you so much, they mean a lot to me even though I can't answer right now. I'll try to answer questions in the last part of the blog as I have done here. T.