Position report: 60° 01′ 50″N ~ 064°11'43″W anchored, Air temp 47°F Seawater (in the bay) Temp 45.7°
I left Bowdoin Harbor with working radar. The antenna drive belt had come lose again. I'm resolved to using it sparingly. It might have something to do with running while the boat is pitching in the swell. If, or more like it, when it comes off again I'll fabricate a shim to hold the spindle higher. Let's hope I don't have to attempt that at sea.
The working radar is all the difference in the world in the fog. Yes, the fog closed in again as I made my way slowly south. The pictures first show the radar then what came out of the fog. When it works it works well. Considering the age is it any wonder the belt might be a little stretched.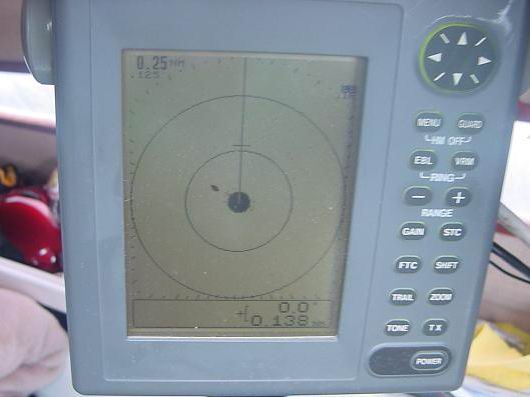 I encountered another bear sitting on a rock island just outside the harbor as I made my way to sea. The boat didn't bother her coming toward the island. I say her because of size compared to the big guy last night. When I made smacking noises, though, she took offense and scampered out of sight. I don't know where she went because she was no where to be seen on the other side of the island.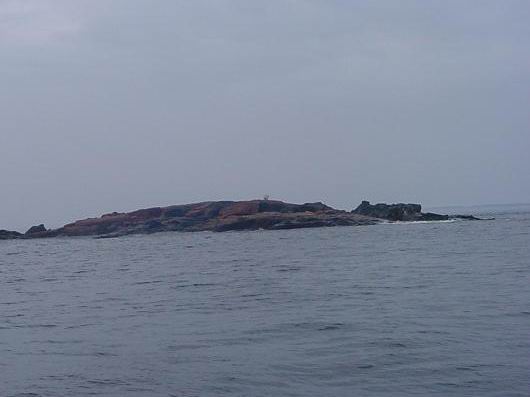 Tonight's anchorage is in Shoal Bay near Williams Harbour where I found such good anchorage. This seems good, too. I backed down hard on the anchor rode and it held. There is some ice in here, left over bergy bits from the big grounded bergs out along the coast. If they come to the boat then I'm convinced they are magnetic. It's a lovely lonely place with caribou roaming on the beach. I don't know what they do on the beach but this is twice I've seen them their.
I am looking forward to a peaceful night and day tomorrow as I wait a change in the winds. Forecast calls for 25 Southeast, right where I want to go. By waiting a change I can cover much more ground with lot less ware and tare on the boat and me.
My next stop I hope to Hebron. It all depends on the wind. Maybe I can transit the Mugford Tickle again!