The predawn wind was freshening from the Southwest. I was up early to catch what ever of the south flowing current I could in the Windy Tickle thinking I would be bucking a headwind. But the Windy Tickle was not as windy as my anchorage and I came out the south end to just enough room to short tack and catches a lift from the southwester to make good progress toward Hopedale. The stratification of the rock cliffs of the Tickle was so interesting. They sang of the tortured geological past in their color and design. I passed through much too quickly.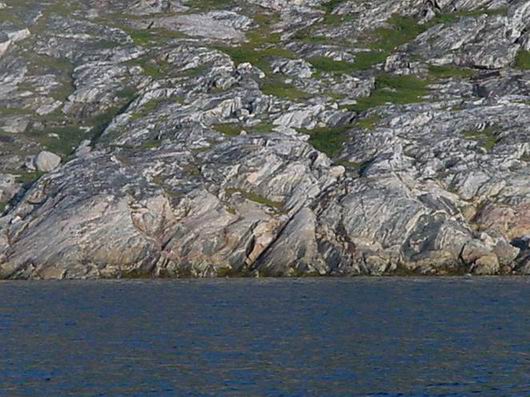 The CAP'N LEM is starting to crisscross the old northbound track I've saved on the GPS Plotter screen. When given a choice of two courses I try to choose the route not taken for the chance of seeing something new. There's a lot of new to be seen on Labrador Coast.
The wind allowed me to make considerable headway with only a few short tacks to clear this shoal and that island headland such that I arrived in Hopedale just after noon. Inukshuk gave me a silent welcome from the hills over Hopedale. The public dock was clear and allowed me an easy landing.
The wind is predicted to back to the east Thursday and give me the lift I need to make way toward Makkovik. I wonder if Uncle Jim will be waiting on the pier.