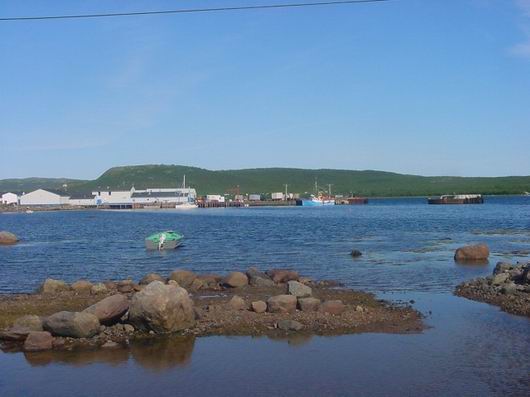 I've arrived in Cartwright Labrador. I'm waiting on mail and a new autopilot having broken the old one twice now. I keep meeting the most interesting people. George and his wife Pete of Experience Labrador have been so kind in helping me get supplies and my mail. They are adventure magnates! It was there I met a couple out to drive around the world and two brothers set on crossing the Atlantic in a small power boat.
Yesterday I plucked 10,000 year old Greenland glacier ice from the sea for my cooler, again. This time I used the netting between the hull and the ama to corral a piece then proceeded to chop it up into manageable bits for the cooler. Ah, one less things to buy. Yes, it was singing its way into oblivion. Well, not really oblivion but a new life as salty seawater. Perhaps the sea is heaven to fresh water since it is always working its way there.
We talked of polar bears and how they have been seen this far south. I was reassured if I would leave them alone they would leave me alone. No worries there, I tell ya. I've seen polar bears in the wild and have no need or desire to see one close up.
My science officer, Wayne Roberts, has started feeding me ice information.
Unstranger asks about the term "in irons": A sailor is said to be "placed in irons" when he has been taken below and locked to a bulkhead with chains or leg irons. So the term was used to descript a ship that fails to make the turn through a tack into the wind, comes to a stop and starts to actually sail backward. The same thing happens to a sailboat if the tack is not executed just right and results in lost time and ground. In a high wind it can be difficult to get going again in the right direction.
The question has come up again about the radar picking up icebergs. My Furuno really does a good job of picking them up but does not do so good picking up the bergybits that fall from the bergs. These are the ones I have to be very careful about as they are as hard as rocks.
If you think the CAP'T LEM is small check out www.CrossTheAtlantic.com , I can only let these guys, Ralf and Bob, speak for themselves. They passed me when I was anchored at the Indian Tickle. Then, I met them through George at Experience Labrador where we had a great time sharing adventures.